BENIDORM FEST 2022
Hotel Marenysol
24/01/2022
Good morning
Benilovers!
Are you ready to start this festival week? As you know, the
Benidorm Fest
is celebrated in our city this year, this is the selection of the song that will represent our country in the next
Eurovision contest
, whose organization will take place in Italy in May. The semifinals are held on Wednesday 26 and Thursday 27 of January and the final on Saturday 29. It will be broadcast from the "Palau d'Esports l'Illa" by RTVE.
Do you already have your favorite song? You can follow all the details and songs participating in the festival through the following
link
Here, you can listen to the fourteen songs that compete to represent Spain in the Eurovision Song Contest. We already have our favorite!
The presenters of the semifinals and the final will be
Alaska, Máximo Huerta and Inés Hernand
and they can be followed live on TVE 1 and RTVE Play during prime time.
As you probably know, our city has experience in organizing festivals of this nature. It was around the end of the 1950s, when the then mayor,
D. Pedro Zaragoza
, together with a group of journalists, had the idea of ​​holding a song festival in the style of what was being done in 
San Remo
.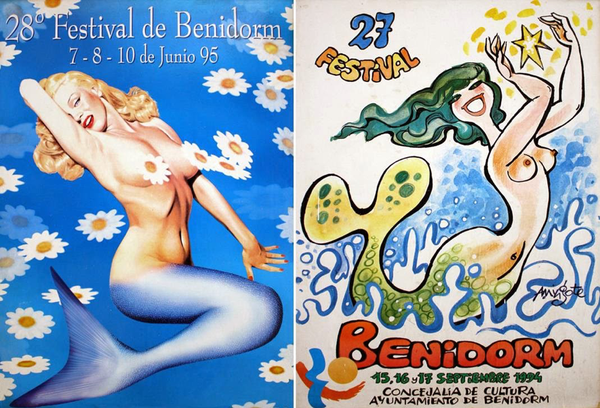 In the first editions from 1959 to 1971 it had a very curious mechanic: the song was defended by two artists or groups. Among them, we can find a very young
Raphael, the Dynamic Duo, Bruno Lomas, Karina, Dyango and even Julio Iglesias himself!
Who was the winner of the 1968 edition with his song "Life is still the same." Other famous songs from that time were "Comunicando", "Llevan" but if you want to get a great idea of ​​what that time were like, look on YouTube for the "Cachitos de Hierro y Cromo" program dedicated to the
Benidorm Festival
. What a time! By the way, the winners got the trophy called Golden mermaid trophy We leave you an image of one of the advertising posters in this case of the great
Mingote
.
Starting in the eighties, the festival went into decline, due to the tastes and interests of the public and musical companies, , disappearing totally in 2006. For this reason, we are very happy to once again celebrate a Festival of these characteristics in our city. We hope you enjoy it a lot!
Comments